There's less that 19 days before Christmas. I have been busy trying to every just right for the holidays but I know there will be some glitches. Remember that when you are preparing for this holiday season. We cannot control everything especially other people. Anyway, what I have been working on the past few days are my presents and this design popped into my mind. It is a trio of gift boxes. You can't see it in the photograph but I used dimensionals to raise the boxes off the main background. Be sure to keep the proportion choice activated when you are resizing the SVG file. I have created this as part of my Christmas design for December but as always you can tailor this to be used on a birthday, wedding, retirement, baby shower celebration project just to mention a few. Enjoy!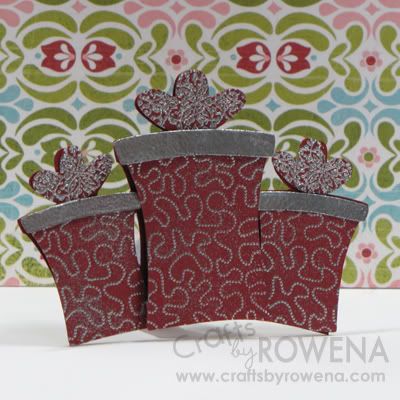 Rowena's Quick & Easy Crafting Tips
➊
Instead of using patterned paper or just plain cardstock get out your embossing tools and make your custom designs on the gift boxes.
➋
If you will be using this on a scrapbook page use the wrapping paper so it will coordinate with your pictures plus you help save the environment. :) Using the gift wrap paper on a thank you card could also be sweet. The person will be so pleased that you enjoyed not only the gift but the effort they put into choosing and wrapping it up.
Send me a link of your project. I would love to see what you do with this SVG file.
- Let your memories feed your creativity™